Tom Hazell recognized by SWFL Inc. for serving under-resourced students in Bonita Springs.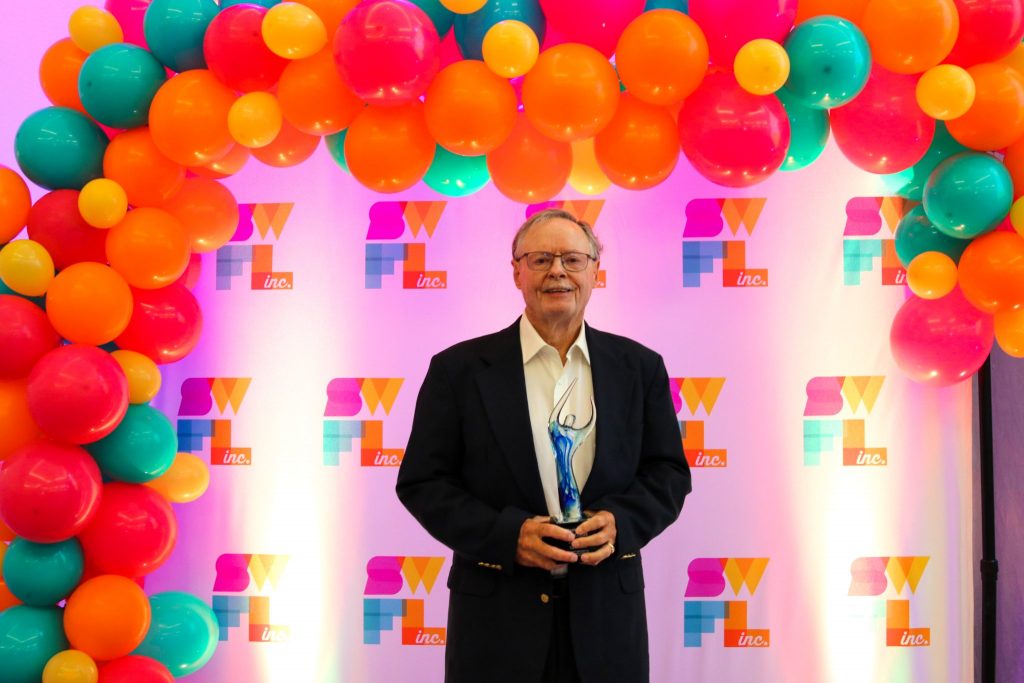 On Wednesday May 25th, the annual INCredible awards took place in Bonita Springs at the Hyatt Regency Coconut Point Resort. The event showcases the impact business and civic leaders are making in the Southwest Florida region. At the celebration, finalists were announced for SWFL Citizen of the Year, Small Business of the Year, Nonprofit of the Year, Veteran-Owned Business of the Year, INCredible Award and Innovation Award.
Tom Hazell has been named the 2022 SWFL Citizen of the Year award. According to SWFL Inc "the SWFL Citizen of the Year honors an individual who has demonstrated an outstanding commitment to the betterment of Southwest Florida over the past 12 months." Hazell has been involved with New Horizons of SWFL, a tutoring, mentoring and character-building program, for over 18 years. He volunteered with the organization for two years and shortly after joined the staff and has been with New Horizons ever since.
Hazell assists in our elementary programming at a Super Kids Club at the First United Methodist church of Bonita Springs. He enjoys sharing a devotion with the elementary school children and encouraging them as they face educational and personal challenges. "I look at these children and see their potential. I see where they can go, how successful they can be, their education, their spiritual walk with God, and also their community activities," expressed Tom. For many students he has become an inspiring mentor. "Mr. Tom has been a faithful part of helping students in this community for so many years," said Jamail Aikens, Director of the Super Kids Club at First United Methodist church.
Recently, a student who is still learning to read and write, wanted to write a note for Hazell in appreciation for all his support and guidance. She asked her volunteer to help her write down what she wanted to say. "Mr. Tom, thank you for talking about Jesus, because now I have learned about Jesus. I now know about Jesus and so does my Grandpa. My Grandpa and I go to church to learn about Jesus and pray to God. Thank you for New Horizons – Now Miss Rita shows me how to learn and I can read now, thank you Mr. Tom," is what Margarita shared in her heartfelt note. "It is a privilege to be able to meet with these students, work with them, and see the progress of them," Tom shared.
Video courtesy of M&M Multimedia LLC
Hazell continues to be an actively engaged member of the community by shaping the lives and minds of under-resourced students in Southwest Florida. "When you have incredibly dedicated staff that truly believe in the vision for the students, we see firsthand lives change. We have comments and letters from students and parents and the life-changing impact Tom has made in the lives of students in our community. That is what makes him worthy of this award," said Dr. Linda Cunning, Executive Director of New Horizons.
---
About New Horizons
New Horizons of Southwest Florida effectively changes the lives of under-resourced students by providing tutoring, mentoring and character-building experiences at its neighborhood clubs. Together with a dedicated group of community volunteers, New Horizons equips K-12 students with the tools to reach their full potential and graduate from high school with a plan for the future. To learn more about how you can get involved visit newhorizonsofswfl.org or to support our programs click here.
Donate Today: https://bit.ly/3Ixz6IV