Do you remember who taught you how to tie your shoes? Did they use a fun story that includes a fuzzy woodland animal to walk you through it? If you were anything like me, it might've taken you a couple tries with the instructions being repeated at least twice. Now imagine being taught to tie your shoes, but the person is speaking a language you are unfamiliar with. This can make a challenging skill seem impossible to learn. This is an example of what many students across Southwest Florida experience every day. They are being challenged to learn new skills in a language that is also new to them.
Help is Here
Maria is a 5th grader who faces these challenges. She is fairly new to the country and struggling with her schoolwork due to the language barrier. Her parents wanted to help her but their efforts were limited. Fortunately, a Super Kids Club was located in their neighborhood at a local church. Super Kids Club is New Horizons of Southwest Florida's K-5th grade after-school programming where students receive homework help, follow a comprehensive online learning program, and are encouraged by staff and volunteers. The parents quickly realized that the services New Horizons provides are exactly what Maria needed, so they took the steps of enrolling their daughter.
Maria joined New Horizons in January. After school, she would make her way to Super Kids Club, always walking in with a friendly smile and a positive attitude. Maria desired to get better at reading and writing. "What inspired me was her commitment to learning and her smile," said Jamail, the Super Kids Club Director. As the school year came to an end, Maria had made improvements to her grades but still wasn't grasping the language.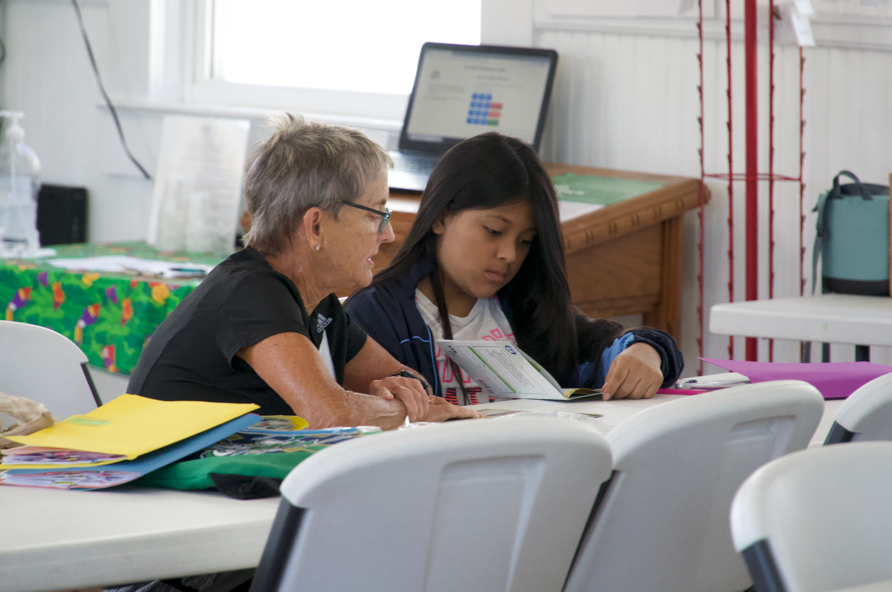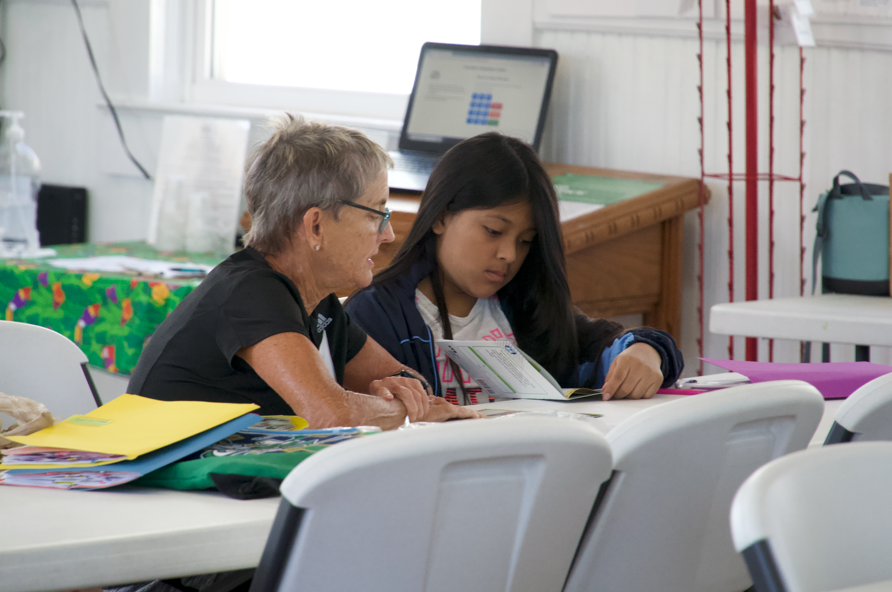 Exemplary Exceptions
During the summer, New Horizons offers programming to keep students engaged in learning while school is out. Elementary school students participate in Super Kids Reading Camp while middle and high school students attend the Super Teens Leadership Camp. As an incoming sixth-grader, Maria would have normally started summer in the Super Teens Leadership Camp. However, New Horizons staff and volunteers who had worked with Maria recommended she attend the Super Kids Reading Camp. This four-week program focuses on reinforcing reading skills so students retain the concepts they learned at school over the summer break.
One volunteer was inspired by Maria's story and wanted to ensure she got the preparation she desperately needed. Mrs. Carol, a retired teacher, decided to commit to attending every day of the camp to provide one-on-one instruction to Maria. This is out of the box as students are typically grouped with others in the same grade level during the instructional part of the camp. Overall, Maria received 40 hours of one-on-one instruction from Mrs. Carol during reading camp and throughout that time they developed a wonderful relationship. "She's great and her reading is getting better," Mrs. Carol said.
By the end of Super Kids Reading Camp, Maria had an 11% increase in the number of words she processed per minute, much improving her reading fluency. Maria has grown in confidence and is better prepared to enter middle school. In the fall, she will proceed her journey with New Horizons in the Super Teens Club program, where she will continue to receive support to face the challenges of learning a new language and succeeding in school.
---
About New Horizons
New Horizons provides tutoring, mentoring and character building programs for more than 500 students annually in Southwest Florida. If you are interested in enrolling your child into one of our 10 trusted neighborhood clubs, call us at 239-948-4146.
If you would like to help students like Maria grow in their confidence and improve in their school work, consider volunteering and supporting New Horizons.
Donate Today: https://bit.ly/3Ixz6IV