Learning Outside the Classroom
You probably remember the time you reeled in your first fish. Do you recall the feeling of confidence after your hard work of learning a new skill paid off? There are many benefits to teaching children how to fish. The Freedom Waters Foundation has partnered with New Horizons of Southwest Florida to provide fishing opportunities to middle and high school students in our Super Teen Club programs.
Each year Freedom Waters Foundation hosts fishing tournaments for under-resourced youth in Naples. Volunteer fishing mentors introduce the sport of fishing to teen boys and girls with the goal of enhancing their life skills. In the fall female fishing mentors host teen girls during the Heels and Reels Fishing Tournament while in the Spring male fishing mentors work alongside teen boys in the Buoys and Bait Fishing Tournament. For the Buoys and Bait Fishing Tournament "the mentors are all men who enjoy fishing and helping young men learn and grow with life and fishing skills, sharing what they love with young men and making a great day for all of them too," said Debra Frenkel, founder of Freedom Waters Foundation.
New Horizons truly values this partnership with Freedom Waters Foundation. It introduces students to water exploration which has been embedded into the fabric of the organization, hence the name 'New Horizons'. Debra and founders of New Horizons, Ellen and Bob Nichols are friends. Prior to the partnership Bob, a former captain, instructed a sea education program that included sailing outings for the teen students. Freedom Waters Foundation, who share a passion for the water and helping children, provides an unique opportunity for students to board a boat and learn about fishing techniques from skilled mentors. New Horizons and Freedom Waters Foundation have partnered for over ten years.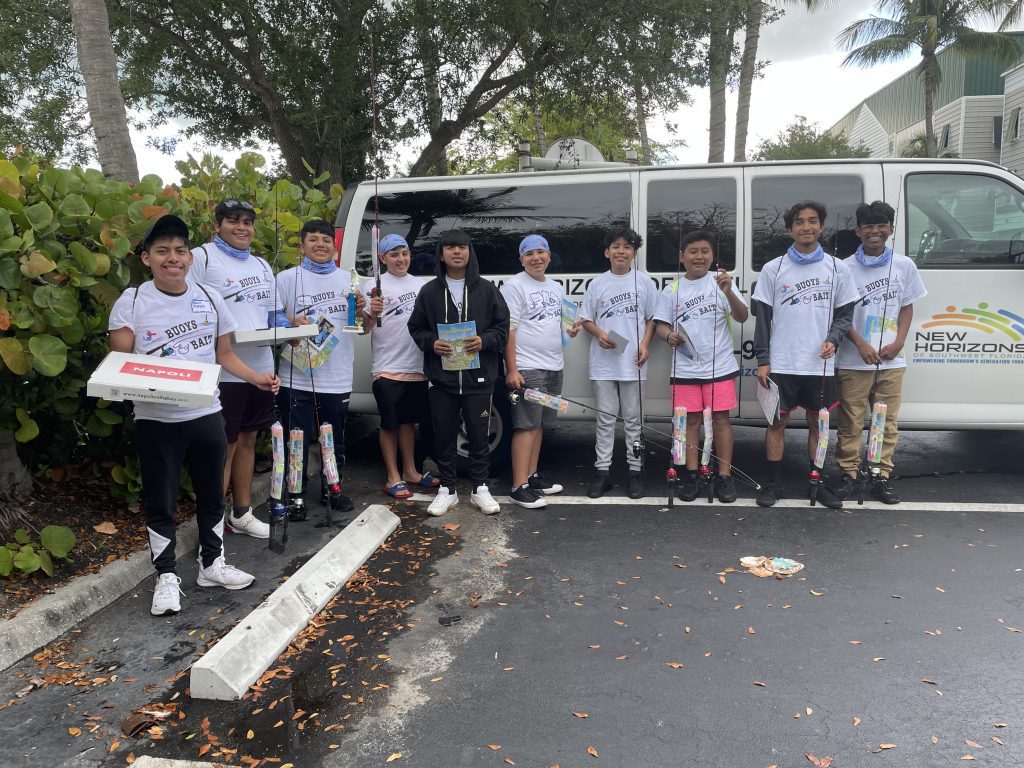 If You Teach a Boy to Fish
This year 18 New Horizons' students participated in the Buoys and Bait fishing tournament on April 30, which took place at the Naples Boat Club. Gilmer is one of several Super Teen Club students that attended. He had fished on one occasion before this but not in an open water setting. "I felt like I was going to fall off the boat and I started praying," he admitted. According to Andrea Holley, Director of Programs, most of the boys who participated, had their first experience on a boat that day. "They also learned a bit about different types of sea life and the different species of fish in our Southwest Florida waters," explained Andrea.
"I got the hang of fishing really easily," said Gilmer. His boat captain helped him track how many fish he reeled in. "I caught some bass but mostly catfish," he said. Gilmer earned the distinction of winning the award and trophy for the most fish caught during Saturday's expedition. He acknowledges that his mentor was helpful in keeping an accurate tally and that other students were not as meticulous in reporting their catches. Regardless, Gilmer's recognition is one he and his Club Director, Kevin Alexander, are very proud of.
"[Gilmer is] one of our most creative, artistic, and enthusiastic students, stated Kevin. This fishing trip inspired Gilmer and made a lasting impression on him. So much so that when he returned to Super Teen Club from this memorable weekend he tapped into his artistic skill set and created a fish using cardboard and other supplies as a tribute to his victory. When asked if he would participate again he replied: "yes, it was fun!" Each student enjoyed fishing in the open waters and learning from experienced mentors. "My favorite part was when they gave me a fishing rod," he exclaimed! Each student was gifted a fishing rod and bait, so they could continue to explore this hobby.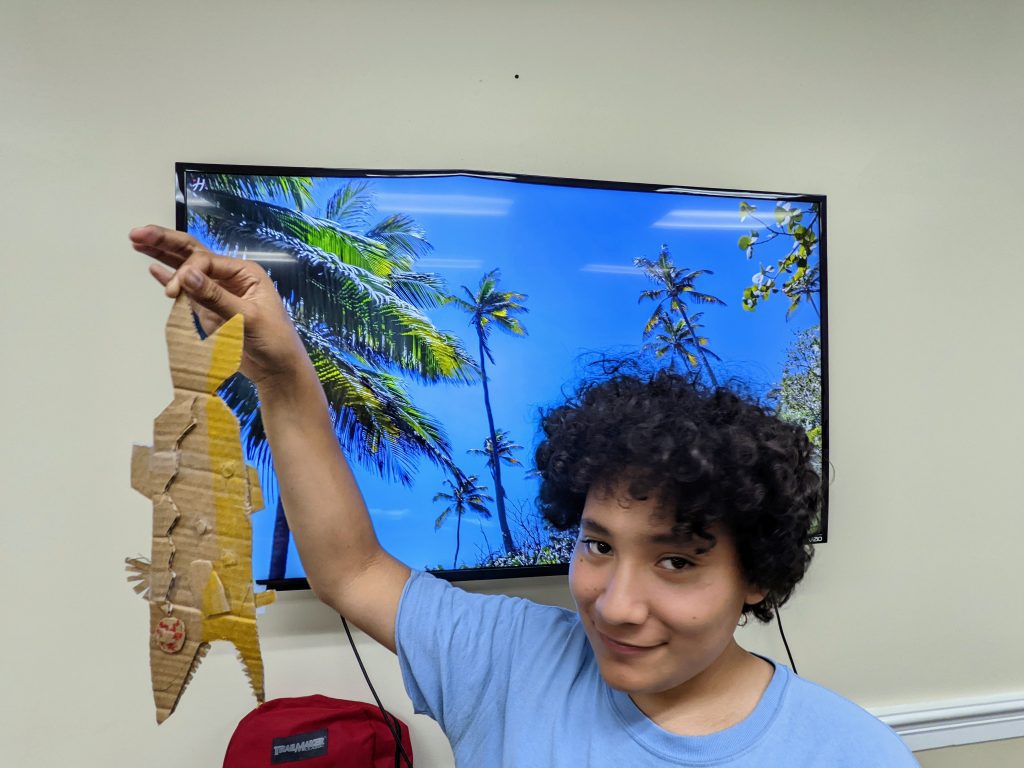 Immersive educational experiences like these create a lasting impression on young minds. As a result senses are heightened, imagination is unlocked, and curiosity is sparked all the while expanding their knowledge in a setting outside the standard four walls of a classroom or club. "This experience broadens their knowledge of the world around them," said Andrea. We are thankful for this partnership with Freedom Waters Foundation and look forward to many more tournaments to come. To learn more about Freedom Waters Foundation visit their website: https://freedomwatersfoundation.org/
---
About New Horizons
New Horizons provides tutoring, mentoring and character building programs for more than 500 students annually in southwest Florida. If you are interested in enrolling your child into one of our 10 trusted neighborhood clubs, call us at 239-948-4146.
Help students like Gilmer grow in their confidence by collaborating with New Horizons in becoming a community partner or by donating to support these type of excursions for our students.
Donate Today: https://bit.ly/3Ixz6IV