Chess has found a new generation of fans. With the recent introduction of stations at Super Teens Club's, 6-12th grade students (Super Teens) have discovered the classic board game as they explore new interests. Many had never played chess before and now they're hooked. Keeping students immersed in education just got a new look.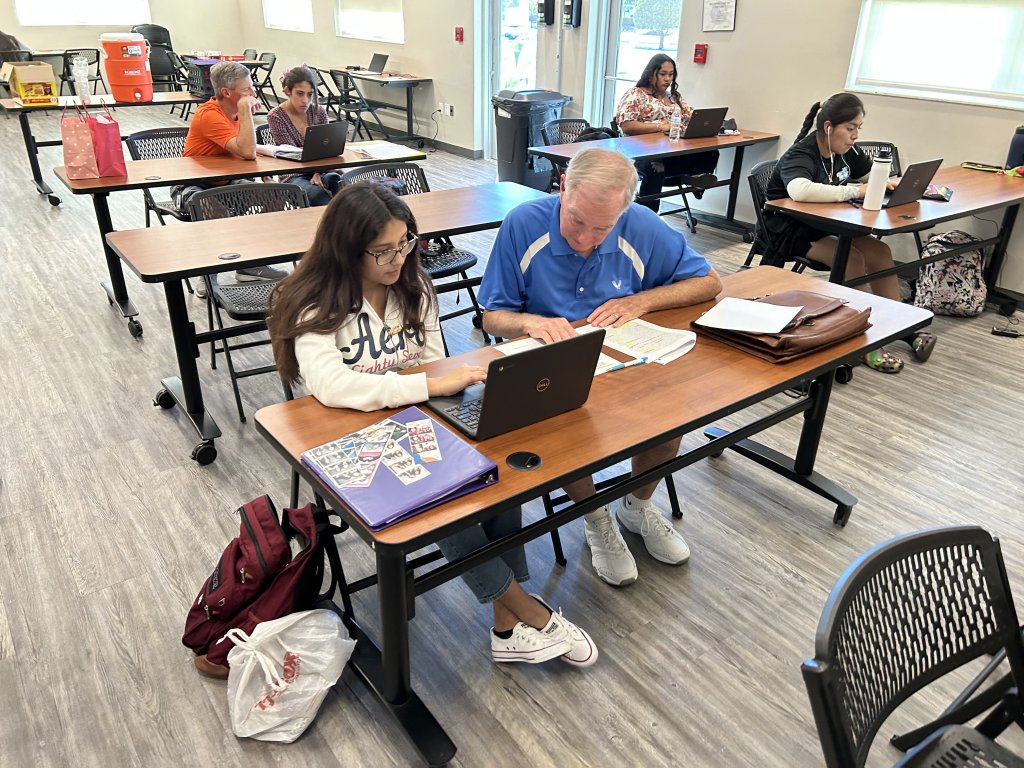 Super Teens Club is an after-school program for 6th-12th grade students that takes place on Monday through Thursday during the school year. Super Teens receive homework help, are encouraged by staff and volunteers and participate in a daily devotional. It is one of the seven programs New Horizons provides to qualifying students in Collier and Lee County.
"On days when students are not assigned homework or complete their assignments before the devotional time begins, we wanted to create opportunities for students to develop skills that they were interested in and keep them engaged while at the Club, " said Andrea Holley the Programs Director. Chess isn't the only activity that was introduced. Throughout the week students rotate between arts and crafts, MasterClass computer lab, as well as strategic-thinking games.
Expert Taught Skills
MasterClass is an immersive online experience where students take classes created by well-known instructors and includes extensive pre-recorded video content, an instructor's guide, interactive assignments, and more. Students can research topics like business, photography, acting and leadership from among many others. "The Athlete's Mindset" by Wayne Gretsky, "Songwriting & Producing" by Alicia Keys, "Creating Change" by Malala to name a few of the classes. Through New Horizons students are learning valuable knowledge being taught by experts that they otherwise would not have access to.
Connection through Creativity
"I enjoy the art station. I like art, the different activities in the art station are fun and I get to learn how to make new things," said Jessica. Jessica is an 8th grader and has been enhancing her skills at the art station. She recently auditioned and was accepted into a competitive Arts Program for high school next year. Volunteer's also benefit from the stations as it allows them to connect with the students beyond schoolwork. Like, volunteer and Board Member, Sandy Chisolm and Emmanuel who created an origami crane together. Stations open windows for bonding and building that mentoring relationship.
Exploring for the Future
Programs are structured around students receiving homework help from volunteer tutors and mentors. The day ends with a devotion style lesson that encourages character and faith building themes. Overall, the goal is for students to graduate with a plan for their future. "With stations our thought is that when students gain a better understanding of themselves, their talents, and their interests, it is a good solid beginning to planning for their future" said Andrea. Many of the students come from homes where English is not the first language and in many cases will be the first to attend post-secondary school. In between homework and devotion time students are able to explore and grow in skills that can lead them to a career path, simultaneously immersed in education in a safe-environment.
Community Effort
Funding for the stations was provided by Bonita-Estero Elks Lodge #2753 and supporters of New Horizons. Judith MacGregor, Grants Coordinator for the Bonita Estero Elks Lodge, said "the Elks are thrilled to be a part of sponsoring this program which is an investment in the future." The dedicated area of stations also allows us to bring in partners, such as Youth4Orphans, who are doing a weekly financial literacy station with our students at our Bonita Springs club. Volunteers who have an educational or creative skillset are encouraged to get involved. The introduction of stations has increased students' motivation to complete their homework as they are eager to start up a chess match, learn about "Documentary Filmmaking" from Ken Burns, or create an art piece that perhaps one day will be framed at a museum.
---
About New Horizons of SWFL
New Horizons provides tutoring, mentoring and character building programs for more than 500 students annually in Southwest Florida. If you are interested in enrolling your child into one of our 10 trusted neighborhood clubs, call us at 239-948-4146.
Help students take steps towards higher education by volunteering at a Super Teen Club or donating to support programs where students get the tools they need to make a plan for their future.
Donate Today: https://bit.ly/3Ixz6IV