Volunteer Spotlight
Almost 10 years ago, at the confluence of their working and retirement lives, Steve and Mary LaBelle moved permanently to Southwest Florida. Many dream of what retirement will look like, and what to do with their time and energy. For Steve and Mary retirement looked like giving back and volunteering. When they decided to get involved, they looked to their church, First Presbyterian Church of Bonita Springs, who introduced them to New Horizons of Southwest Florida.
From there, they carved out a path of their own at New Horizons of SWFL while making a difference in the lives of under-resourced students. Steve, a longtime chief financial officer and Mary, a math teacher, began volunteering in a number of ways at New Horizons. They first found their place mentoring and tutoring teenagers in the Super Teens Club at one of our oldest sites, Rosemary Super Teens that is now housed at Estero Church.
Stepping Up
Early on in the pandemic, when students were participating in online learning, the LaBelle's supported students' academic needs virtually. As many volunteers stepped back, Mary stepped up doing Zoom tutoring. They are an integral part of the network supporting our students, families and mission.
They both find joy in supporting the students at New Horizons. Steve said, "Every once in a while you really engage with the students, and build that trust. I spend time helping with math homework, but the kids typically just want the answers to get their homework done. Some of the time though, they really learn the concept and have that aha moment, or ask a question that indicates that they understand the concept. That makes it meaningful. They learned something and I didn't just give them the answer."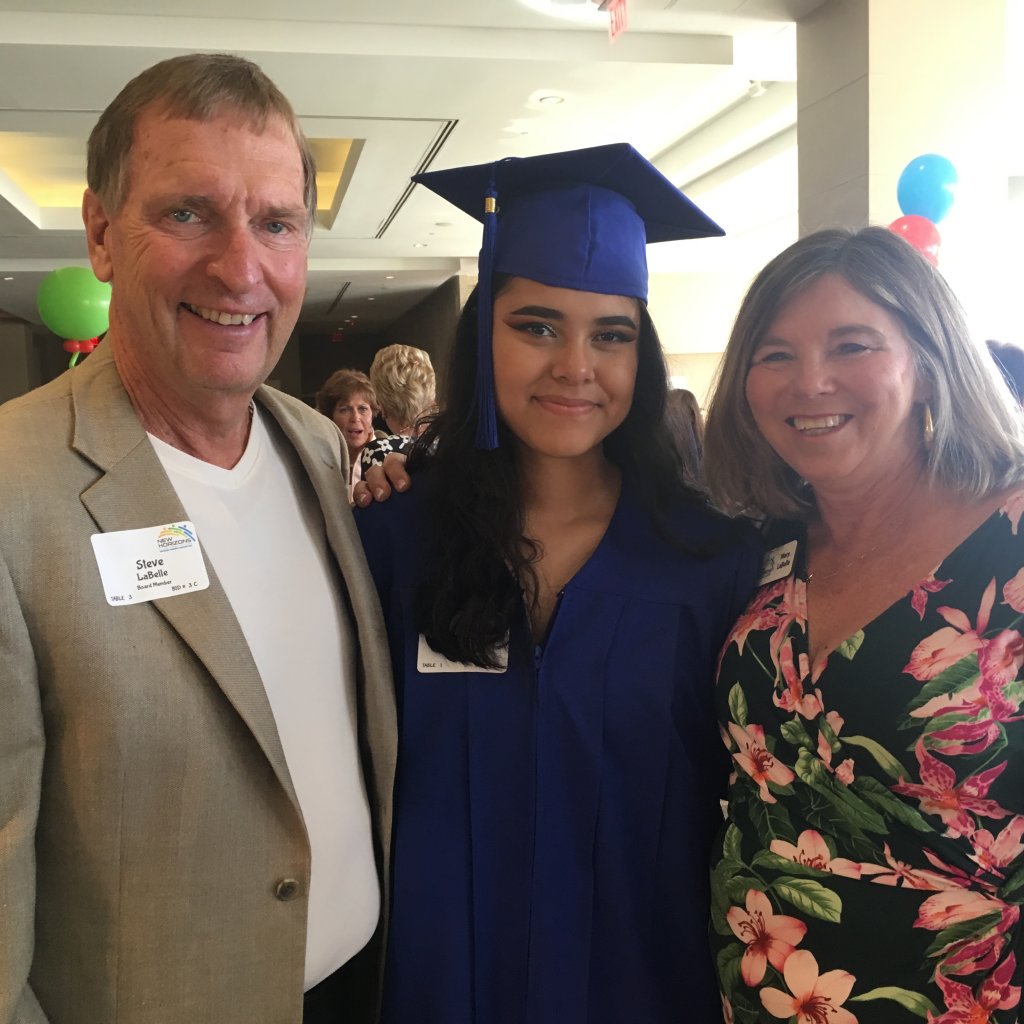 A former student and friend that Mary and Steve once tutored said, "We were especially mentored by one tutor, Mary. She and her husband, Steve, helped and encouraged us all the time. Once, when we had a school fundraiser event, they gave us a note saying, 'We're praying for you.' We really appreciate the LaBelle's and our other tutors." According to Steve, "the most important thing for me are the kids and helping the kids get through school." Mary echoed that sentiment, saying, "That's the focus and what we care about. It is just what's necessary and we do whatever we can to help them stay safe, make good choices and get them through school and into some kind of career."
Doing More
Mary has always wanted to help the students go one step further. "I like to help middle schoolers set goals and realistic dreams for their futures. I try to inspire the students: work hard now, focus on homework, reading and activities." She believes that will help the kids form a vision of what their future could be, giving them a sense of hope, pride and confidence. "These kids deserve the best. They're great kids," Steve said. There is no greater feeling than helping students grow intellectually, emotionally and spiritually.
The LaBelle's faith and dedication to the students has been unwavering through their years of involvement. Additionally, Steve serves as a board member and Treasurer while Mary serves as co-chair of New Horizons' Community Council, which works to raise awareness of New Horizons' mission within 16 residential communities in Southwest Florida.
Earlier this year the Community Council hosted a book drive for Super Kids and Super Teens Club students. Mary was instrumental in getting supporters involved, including their church, First Presbyterian Church. She, with the help of Council members, graciously sorted through hundreds of donated books, which resulted in over 400 books being given to students in February for "I love to read month."
Recently at the Volunteer Appreciation Reception, Mary was recognized as Volunteer of the Year for the Estero Super Teens Club. Reymond, the Director of the club highlighted, "She has been working hard the whole school year, providing assistance to the middle school kids, with a lot of patience and dedication. She also did an amazing job bringing lots of books that were well received by the students…Mrs. Mary is a passionate person and moved by the love of God to do good for those around her."
Thinking of Tomorrow
The LaBelle's support doesn't stop there. In addition to providing their time and talent, they also financially support the work of New Horizons. Steve and Mary are annual donors and have committed to a legacy gift to support the mission of New Horizons long into the organization's future. "We both came from families that believed in giving back to our church and colleges and to share what you have," Mary said. "I think volunteering gives life a sense of meaning, not just living for yourself, but giving of yourself to help someone else. We can help. We want to give to what we're passionate about. The people involved with New Horizons – students, staff and volunteers grow in their faith in this faith-based program. "
---
About New Horizons of SWFL
New Horizons of Southwest Florida effectively changes the lives of under-resourced students by providing tutoring, mentoring and character-building experiences at its neighborhood clubs. Together with a dedicated group of community volunteers, New Horizons equips K-12 students with the tools they need to reach their full potential and graduate from high school with a plan for the future.
Help students take steps towards higher education by volunteering. If you are interested in making a planned gift visit: newhorizonsofswfl.org/yourlegacy
Donate Today: https://bit.ly/3Ixz6IV